While I'm sitting around waiting for our fence to be installed, I have nothing better to do than to update y'all on the next big thing around here: our laundry room!
I have a thing for laundry spaces. I love 'em. I love the big shiny machines, I love the ample, out-of-sight storage, I love that the litter box isn't in a bathroom. I have some serious home-decor lady-wood for laundry rooms. That's probably why my Pinterest
laundry room board
has more pins than
my office board
,
my guest rooms board
,
my Leonardo DiCaprio board
, and
my dad jokes board
, among others (fact).
Some of my favorites: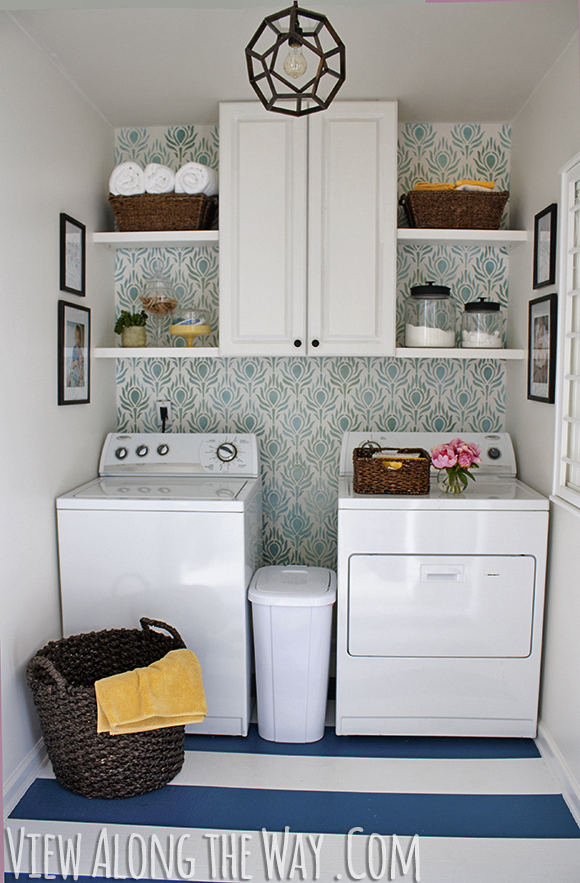 And let's not forget one of my all time favs, the
YHL
Homerama showhouse.
I've said it before and I'll say it again, our laundry room is one of the things that sold me on our house. Not only is it upstairs, but it's the only utility space we saw in all our house searching that was wider than the combined width of the washer & dryer. We have enough space to add a cabinet or sink or shelves. So far, we've chosen to completely under-utilize the space and put the cat food there.
My list:
Accent wall: I normally hate accent walls (mainly because they are everywhere) but in laundry rooms, where everything seems to be on one wall anyway, they just work.
Open Shelves: And not wire shelves. This wall would be too heavy with a bank of cabinets running the full length. I love the airiness shelves provide, plus it won't cover up too much of my accent wall.
Cabinets: If money and DIY ability permits, I'd love to throw in an upper cabinet or two.
Hanging Space: In the days of do-not-tumble-dry clothes, we always have clothes laying on top of our washer, dryer, shelves, and occasionally actually hanging. It only makes sense to set aside a corner for designated, grown-up hanging space.
And to see where we are coming from:
It does not make me proud to show you these.
So that's where we're coming from and where we're going. Now I just have to find the time and money. We shall see how long this takes.